September 13th, 2023 – Throughout the year, the Town of Islip has the distinct honor of recognizing extraordinary members of the community who live their lives with determination and drive, leading by positive example to be a force for good.
This month, Islip Town Supervisor Angie Carpenter and members of the Town Board proudly recognized those members of the community of Hispanic Heritage, whose presence in the Town has improved the quality of life for their fellow neighbors and communities. The town was honored to have four such members of the community recognized at the September Town Board meeting.

Born in Columbia, Diego Isaza came to the United States at just 11 years old, joining his mother and her dream of one day owning a bakery. That dream would come to fruition, and the now thriving Sabor Latino Bakery has been serving the Brentwood community for many years.

Diego's commitment to the Bakery and his employees was recently demonstrated during the Pandemic. Sabor Latino Bakery never closed its doors, both providing comfort to the community, while offering a secure place of work for his employees during uncertain times. In addition, Diego happily and regularly donates surplus baked goods to the local community.

Alfredo Alvarado has dedicated himself to a life predicated on the notions to "protect and serve." Born in El Salvador, Alfredo immigrated to the United States at 7 years old, and graduated from Central Islip High School in 2007. After high school, Alfredo joined the United States Army, serving as an infantryman and rising to the rank of Staff Sergeant, and in 2008, he deployed to Afghanistan to support Operation Enduring Freedom.

Upon his retirement from active military service, Alfredo joined the ranks of the NYPD, dedicating over three years to the City of New York. He has continued his career in law enforcement, currently serving as a police officer in the Suffolk County Police Department's Third Precinct.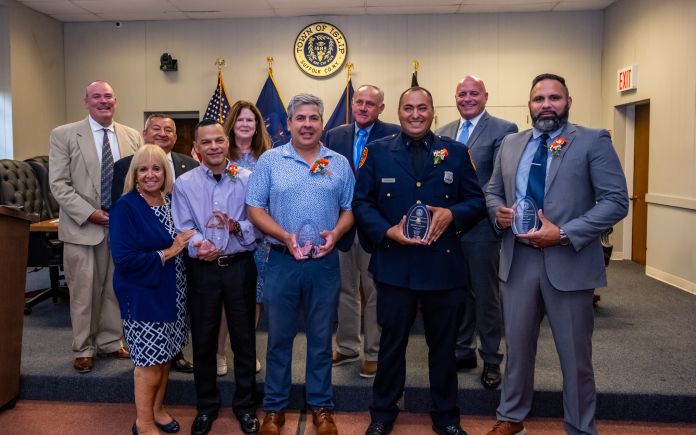 Within the SCPD, Alfredo serves as a community officer in the 3rd Precinct C.O.P.E Unit and assists in running the Police Explorer Post 389, organizing "Cooking with a Cop" to teach kids how to make simple meals at home, as well as providing gang prevention and mentoring services to at-risk youth throughout our community. His devotion to keeping communities and the people whom call them home safe, is truly noteworthy.

Miguel Turell was born and raised in Brentwood, graduating from Brentwood High School in 1999. For over 20 years, he has been dedicated to giving back to his community, serving as a Brentwood Youth Athletics Basketball coach; Youth Mentor with the Gentleman's Society; and a Parent Connector with Brentwood's My Brother's Keeper Family Component. Miguel has also been a dedicated volunteer of Youth Enrichment Services, where he has served as a Community Credible Messenger, working with youth returning home from placement upstate.

In 2016, Miguel founded Uplift Brentwood, later named Uplift Our Towns, a non-profit dedicated to promoting positive community engagement and participation in Brentwood and Central Islip. Along with founding Uplift Our Towns, Miguel is the current leader of the Clean Streets Project, an annual event focused on cleaning up the neighborhoods of Brentwood, Central Islip and Bay Shore.

Throughout his career he has demonstrated true care for the positive direction of today's youth, and the continued beauty of the Town of Islip .

Carlos Cabrera of Sayville is first and foremost, a dedicated and compassionate community advocate and volunteer. He is the owner of the historic Sayville Inn, whose rich history boasts having once served President Teddy Roosevelt.

As an active member of the Sayville Chamber of Commerce where he serves as the chairman of the Golf Committee, Carlos plays a crucial role in fostering a vibrant and inclusive community atmosphere, also hosting the annual "Sangria Salute" fundraiser to benefit the Lt. Michael P. Murphy Navy Seal Museum.

Additionally, as the Treasurer of the Neighborhood House of Long Island, a non-profit founded in 2013 to help combat the epidemic and tragic aftereffects caused by deaths of despair, Carlos has made it his mission to create a sanctuary where people can find the hope necessary to repair their lives. His genuine compassion for giving back showcases a true spirit of charity and generosity.

"Congratulations to all the honorees of this year's Hispanic Heritage awards, and a sincere thank you for all you have done and continue to do for our community," said Islip Town Supervisor, Angie Carpenter.