Town Celebrates 6th Class of Law Enforcement Academy Cadets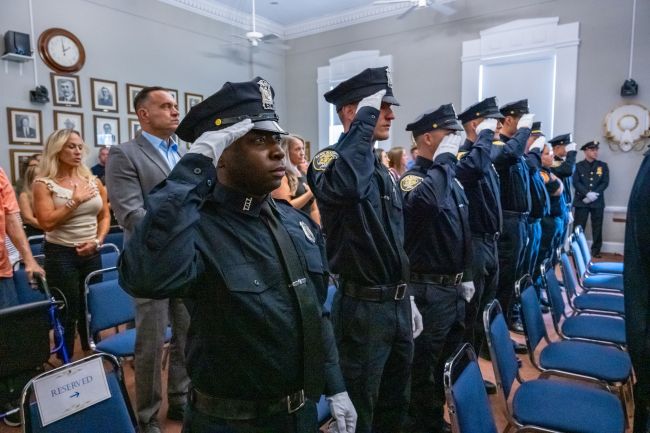 September 14th, 2023 – The Town of Islip Law Enforcement Academy graduated it's 6th class of cadets this week. The robust 14-week-long Academy is led by NYS Division of Criminal Justice Services (DCJS) certified instructors, and has been built from the ground up to better prepare recruits and current officers for service in the Town and beyond.
As a point of pride, the DCJS has recommended the Town's academy to other law enforcement agencies. The Town graduated a total of 16 cadets hailing from the Town of Islip, the Towns of Smithtown, Babylon, as well as from Suffolk County.

"We are so fortunate in the Town of Islip that our Public Safety Division is comprised of individuals with the skills and resources necessary to build, grow and conduct its own in-house training Academy," said Islip Town Supervisor, Angie Carpenter.

Classroom instruction focuses on law, ethics, communication, daily defensive tactics, as well as de-escalation, Narcan, CPR, First Aid training and more.
"We are proud of our dedicated and knowledgeable instructors, alongside Chief Thomas Lohmann from Smithtown Public Safety, for the invaluable training they provide; we are proud of all our cadets and officers who complete this training, becoming better equipped to serve our residents and the public; and we look on with pride watching the Academy continue to grow as one of the 'go to' training facilities in the area," said the Supervisor.

Graduates from the Town of Islip:
Cole Andrade
Joel Andrews
Brian Converso
Jared Nelson
Ryan O'Hora – Top Academic Score
Peter Valcarcel – Top Pistol Marksman
From the Town of Smithtown:
Alana Buckley
James Easton
Patrick Lagravinese
Cory Lahann
Kevin Murphy
Carlos Robles
Madelyn Torres
From the Town of Babylon:
Anthony Mastromonica – Top Pistol Marksman
Wyatt Willoughby
From Suffolk County:
Congratulations to each of these 16 cadets! "On behalf of myself, the Islip Town Board and all of us here at the Town of Islip, please know that as you head into your day-to-day duties, you have our deepest gratitude for all you do, and will do. We truly appreciate your efforts. Be safe and remember, we will always have your back," concluded Supervisor Carpenter.