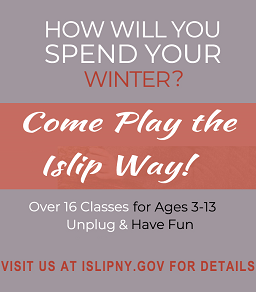 February 11th, 2020 – Need a way to unplug over the break? Looking for fun new activities this winter season? Be sure to check out the many programs and events our Department of Parks, Recreation and Cultural Affairs are hosting now through Spring.

See the flyers below for more details, or call 631-224-5405.

See a list of all available activities, beginning on Page 16 in the 2020 Winter/Spring Recreation Newsletter.
Read more: Parks, Recreation and Cultural Affairs Winter/Spring Activities